Ah, Lily Allen won the poll for March. Goody. Liked her since her debut. For those of you out there who ain't familiar with her, here's a short bio that I've done about her. She's quite well known in the UK and in the States, unsure about the local scene here though. Local airwaves doesn't really appeal to me, except for the station with a 'Class'. =)

Lily Allen, whose full name is Lily Rose Beatrice Allen, is a Singer-Songwriter born in England (London). Aged 23 currently (Birthday is on 2nd May 1985), she has 2 studio albums under her belt and even received a Grammy nomination for her debut album, Alright Still, for Best Alternative Music Album.

I'm gonna focus on the major highlights of Lily's music career (she does have a fair share of scandals, not going into them cause I only judge an artist musically). The road to mainstream recognition roughly started when she created an account on MySpace and posted her demos there. These demos attracted a respectable amount of listeners and at the same time, she released 500 limited edition 7" (inch) vinyl singles of "LDN" (which means a slang for London), which would be the future 2nd single off her debut album. Over time, she accumulated tens of thousands of MySpace friends and this attracted the interest of The Observer Music Monthly (OMM), a magazine published in The Observer.

At that time, few people outside her label's A&R (Artists & Repertoire) department knew who she was, so the label was slow in responding to publications wanting to report about her. After a few months, OMM published an article about Lily's success through MySpace and received her first major mainstream coverage by appearing on the cover story of the magazine.

Following this, the label are convinced that she has potential and this allows her to have more creative control over her debut album and enables her to use some of her own songs that she had written instead of working with mainstream producers to ensure definite success. Lily worked with producers Greg Kurstin (Produced and wrote Britney's "Rock Me In", which is a bonus track off the Deluxe Edition of "Circus") and Mark Ronson (Amy Winehouse's producer and Samantha Ronson's Bro) for her debut album.



Alright, Still Lily's debut album. "Alright, Still" is first released as a limited edition 12" format in the UK on 3rd July 2006. Later in the month on 17th July, the full CD is being released in the UK and the rest of Europe. The album is available digitally on the US itunes in Sep 2006 and is released on CD format on 30th Jan 2007. The album title is derived from a line from the 2nd track of the album, "Knock 'Em Out". Lily also stated that she liked Albert Einstein's aphorism "Nothing changes until something moves", and the idea that "everything is alright as long as it's still".

The most obvious attribute of Lily's songs is that her lyrics are conversational-like, with a dark sense of humour (Black comedy-like). The album received with positive response from the critics and consumers alike. It's 6-times platinum in her native country, the UK. The album debuted at number 2 on the UK chart and peaked at number 20 on the US Billboard chart. It's first single, "Smile", peaked at number 1. Other singles released from this album are the re-release of "LDN", "Littlest Things", "Shame for You" and "Alfie".

IMO, this is a strong debut for Lily, though she said recently that she cringes when she listens to this album now as it reminds her that she was a "sort of over-excitable teenager who desperately wanted attention when she wrote it (She only 20/21 at that time). "Smile" and "LDN" (peaked at number 6) are good introductory singles to let listeners know who Lily is and her style. "Littlest Things" is slightly underrated, peaking only at number 21 on the UK chart. It's a dreamy ballad that showcases Lily's sensitive side. I don't really like "Shame for You" and "Alfie" (released as a Double A-side single), but it peaked at number 15.

Highlights of this album are not being released as singles. Weird. My favs along with "Littlest Things" are "Everything's Just Wonderful" and "Friday Night".

"Everything's Just Wonderful" contains witty lyrics, and you'll be bopping to the tune. It's catchy. "Friday Night" describes, well, a Friday night out ala Mariah Carey's "Migrate". Similiar concept, different approach. Again, witty lyrics and the tune sounds slightly cha cha-ish.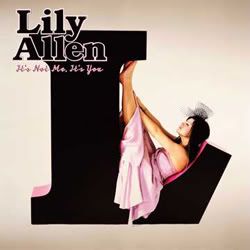 As for her 2nd album ("It's Not Me, It's You") which is just released not long ago on Feb 9th 2009 in the UK and Feb 10th 2009 in the US, am doing a seperate article/review on it. It deserves its own spotlight, with Lily being artist of the month. A teaser: It's an improvement from her debut and her debut ain't bad.



Recommended Tracks